Blog Home
Q2 2019 Influencer Marketing Report
Influencer Marketing Grows 83% Year-over-Year, 18% Quarter-over-Quarter
Overall Spending on Influencer and Fake Followers
Brands in Q2 2019 spent a total of $442 million on influencer marketing in the US and Canada. They spent $314 million of that on Instagram, $58 million of which was to reach fake followers. Q2 2019 was the largest quarter yet for influencer marketing, with spend up 18% from Q1 2019, and up 83% from Q2 2018.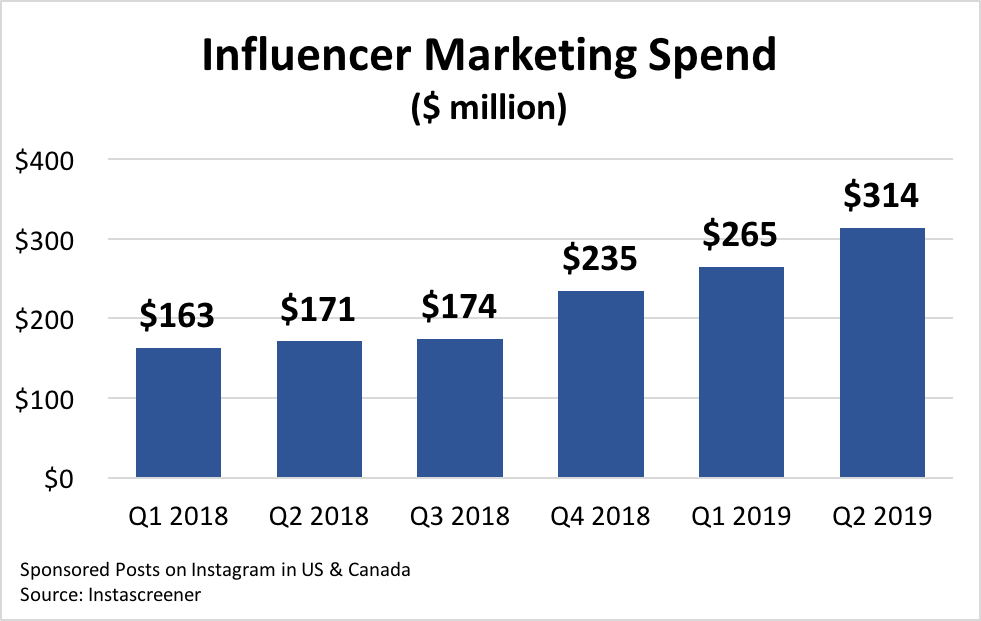 Top Influencer Marketers
The Top Ten Influencer Marketers on Instagram spent an average of $2.7 million in Q2, with retailer Fashion Nova once again leading the way. As in previous quarters, many of Q2's Top Influencer Marketers were independent brands and direct-to-consumer companies for whom influencer marketing is a primary marketing channel.


Top Ten Influencer Marketers
Rank
Advertiser
Estimated Spend
1
Fashion Nova
$5,512,946
2
Ciroc
$3,474,802
3
Flat Tummy Co
$2,987,597
4
Carolina Lemke
$2,711,905
5
Revolve
$2,386,810
6
Walmart
$2,348,241
7
Ace Brand
$2,096,753
8
Ignite International
$2,080,288
9
BOOMBOD
$1,999,542
10
Budweiser
$1,689,434
Top Influencer Marketing Spenders on Instagram in US & Canada, Q2 2019
Most Fooled
The Ten Most Fooled brands' sponsored posts went to audiences that on average were 50% fake, compared to 18% for the average brand. None of Q1's Ten Most Fooled reappeared on the Q2 list, which includes a mix of smaller brands (GoGo squeeZ, UPTIME Energy) and larger consumer goods companies (Unilever brand Pond's; Revlon subsidiary Elizabeth Arden).


Ten Most Fooled
Rank
Advertiser
% Fake Followers
1
GoGo squeeZ
60%
2
Wines of Sicily
54%
3
American Greetings
54%
4
Elizabeth Arden
52%
5
Pond's
51%
6
Soma Intimates
48%
7
Veritas Farms
47%
8
UPTIME Energy
47%
9
Saks Off 5th
46%
10
o.b. Tampons
45%
Brands Whose Instagram Sponsored Posts Had Highest Fake Follower %
(>$30k Spend) in US & Canada, Q2 2019.
Most Engaging
Luxury, fashion and beauty brands dominated Q2's Ten Most Engaging brands. Audi topped the list with an authentic engagement rate of 12.7%. The Ten Most Engaging brands had an average authentic engagement rate of 7.7%. By comparison, the typical brand had an authentic engagement rate of just 1.4%.


Ten Most Engaging
Rank
Advertiser
Authentic Engagement Rate
1
Audi
12.7%
2
Aerie
9.6%
3
Wella Hair
8.4%
4
Sephora Collection
8.4%
5
Lulus
6.7%
6
Sky Zone
6.5%
7
Lounge Underwear
6.3%
8
Hugo Boss
6.2%
9
Rosewood Hotels
6.2%
10
Veuve Cliquot
5.9%
Brands Achieving Highest Authentic Engagement Rates for Instagram
Sponsored Posts (>$30k Spend) in US & Canada, Q2 2019.

Methodology: To track influencer marketing, Instascreener uses software that analyzes nearly every sponsored post on Instagram. To estimate Instagram spend, Instascreener assumes "rate card" pricing of $0.003 per follower; actual price and pricing model differ by brand and deal. To estimate fake followers, Instascreener uses machine learning to identify patterns that differentiate real accounts from purchased bots. To estimate non-Instagram influencer spend, the firm uses proprietary spend data and research.


About Instascreener: Instascreener (formerly known as Points North Group) is an influencer marketing analytics company. Combining machine learning with proven research techniques and industry-leading experience, Instascreener provides brands with unbiased, third-party screening and measurement of their influencer programs so they can eliminate waste and fraud, optimize spend, and maximize ROI.


Interested in more granular data? Our influencer insights and competitive intelligence reports include overall metrics and benchmarks plus brand-by-brand breakdowns of influencer spend, fake followers, and eCPM. To learn more about subscribing, or to discuss custom analysis, please contact us at info@instascreener.com.